Aunque la COVID-19 ha supuesto un golpe duro para la sociedad, también ha traído consigo un nuevo enfoque en el sector de los eventos. Hablamos de un formato de reunión que toma la mejor versión de los eventos online y presenciales. Se trata nada más y nada menos que de los eventos híbridos, una tendencia que no para de crecer y que, sin duda, ha venido para quedarse. 
Muchos organizadores de eventos se han aplicado seriamente el: "Reinventarse o morir". Sin embargo, para pasar del dicho al hecho, hay que saber tomar las riendas de la situación y aprovechar las oportunidades que brinda el presente. En Spathios lo tenemos claro: Los eventos híbridos son una muy buena opción para que marcas y públicos conecten e interactúen. A continuación, te desvelamos que son los eventos híbridos y cuáles son sus ventajas.
Eventos híbridos, ¿qué son?
An hybrid event es aquel en el que se combina el mundo físico y el mundo virtual, dando lugar a la participación e interacción de sus asistentes. De hecho, el evento se lleva a cabo en un lugar físico con un aforo más reducido de lo que suele tener un evento presencial, al que también se unen invitados en streaming. Así pues, los eventos híbridos se celebran presencialmente, ofreciendo la posibilidad de que otras personas de alrededor del mundo puedan participar en vivo. 
Claro está que la tecnología va de la mano de los eventos y sin ella, hubiera sido imposible reavivar el sector en estos tiempos de pandemia. Los eventos híbridos ya son todo un éxito a nivel mundial, ¿quieres saber por qué? 
Principales ventajas de los eventos híbridos
Un evento de este tipo comporta muchas ventajas, tanto para la propia marca que lo organiza como para el público que asiste, sea de manera física o remota. A continuación os mostramos las ventajas más destacadas de los eventos híbridos:
Además, se le suma una ventaja igual o más importante que es el cumplimiento de las normas de la COVID-19. Los eventos híbridos permiten llegar a una mayor audiencia velando por la seguridad de todos. Es genial, ¿verdad?
Gala de Operación Triunfo en formato híbrido.
¿Cómo organizar un evento híbrido con éxito?
Como en todo evento, la organización es clave. Cualquier evento, sea híbrido o no, debe de estar organizado al milímetro. En este caso, es importante controlar tanto la parte del evento online como offline. Por un lado, debes de tener organizado todo lo que pase en el espacio. Y, por otro, asegurar que la transmisión del evento en línea va sobre ruedas.
Sabemos que la organización de un evento híbrido es importantísima. Por eso, queremos que tengas presente los siguientes tips (¡toma nota!):
¿Dónde celebrar el evento?
Suele ser una de las primeras cuestiones a plantearse… ¿Dónde hacer el evento híbrido? El material y la tecnología tiene que estar presente en un espacio que sea polivalente y agradable para los asistentes presenciales. Son muchas variantes a tener en cuenta para la elección y organización de un espacio para un evento híbrido.
On Spathios sabemos lo importante que es dar con la localización ideal. Por ese motivo, contamos con una amplia cartera de espacios para eventos híbridos que no te dejarán indiferente. Disponemos de espacios de todo tipo: Lofts coloridos, cines, platós… y un sinfín más. 
Por ahora, encontrarás estos espacios perfectamente equipados en Barcelona and Madrid. 
¿A qué esperas? 
Eventos híbridos de referencia
Los eventos híbridos ya existen de hace años pero, "gracias" al coronavirus, en el último año han ganado más relevancia que nunca. Ya son muchas las empresas y organizaciones que han confiado en este formato y han conseguido generar grandes experiencias a sus usuarios. Hablamos de marcas pioneras como Hilton, la Academia de Cine Española o la Barcelona New Economy Week.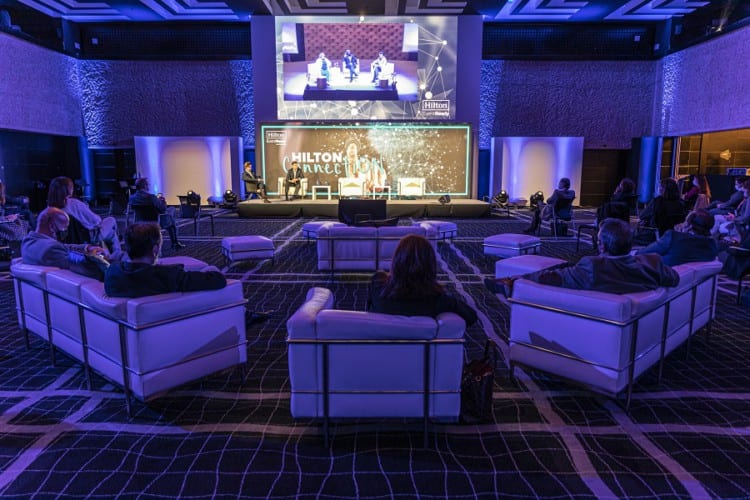 Primer evento híbrido de la cadena Hilton en España.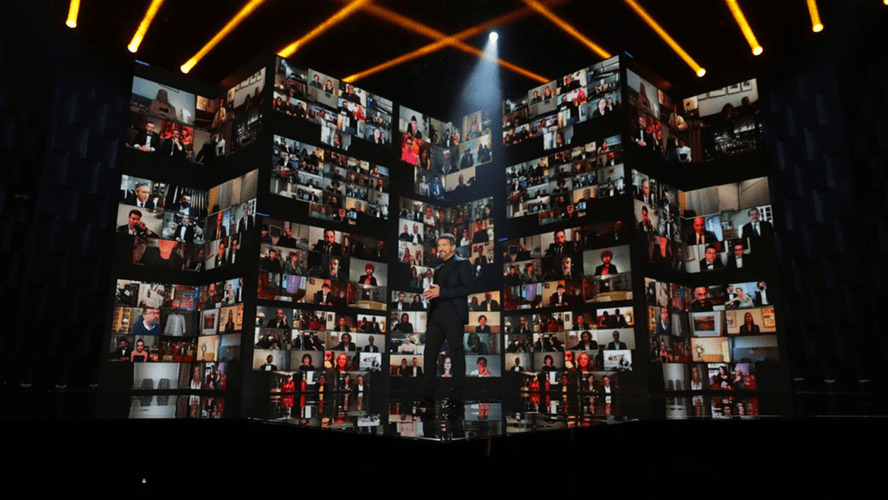 Gala de los Goya en formato de evento híbrido.
3. Barcelona New Economy Week - BNEW
BNEW organizó el evento online y físico por las condiciones sanitarias.
¿Qué piensas de este tipo de eventos? Nos encantaría saber tu opinión. Y, sobre todo, si estás en búsqueda de el espacio ideal para tu próximo evento, no dudes en echarle un vistazo a la plataforma. 
Search, find and booking los mejores espacios de tu ciudad en tan solo 3 clics.